This pattern is a Vintage-styled apron that has five views (3 full aprons, 2 half aprons). I made view A a halter style full apron with ruffles.
.
All sizes are in one envelope. For the skirt part of this apron I made a medium and for the bust area I made a large as I was worried it would not fit me up top. As it happens next time I would make a medium up top! (see more details about this below)
This is a photo of the Pattern envelope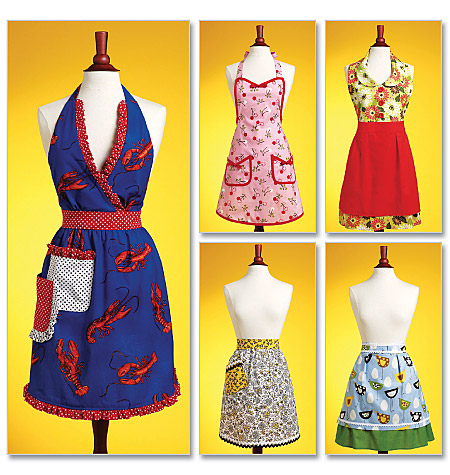 The apron looked like the photo/drawing on the pattern envelope once I was done sewing with it, apart from I did not add the pockets to the apron skirt.
The instructions were extremely easy to follow and clearly illustrated.
What I really love about this pattern is the cute vintage styling and the versatility of the pattern. However what I really did not like was making all the ruffles, saying that the end result was great, and definitely made all the effort of making the ruffles worth all the trouble! I just love all the girlie, feminine ruffles.
What I would do differently next time - As mentioned above, I would make a medium up top as it does gape quite a bit in the chest area, this can be fixed by adding a pleat. I think that as this is a halter-style apron, making a larger top bodice piece does not necessarily result in a better fit.
I used 100% cotton, for both the main fabric and contrasting fabric on the ruffles and ties.
If you only ever buy one apron pattern then buy this one! I absolutely love this pattern and in just a short time its given me the basics to know how to put aprons together and has enabled me to have a go at making my own reversible and half aprons (future posts). I have already added a blog post about a reversible half apron I made for a friend. See this post Reversible Half Apron.