This year it will be the 5th Christmas we have lived in this house and I have never decorated my staircase. Can you believe it, one of the things that sold me on this house was the flowing staircase! yet I have never decorated it. This is probably due to the fact that since living here, Christmas has been a time where there have been a number of not so good events going on in our lives and I just did not have the time to do it, or even think about it!
Well, I decided this year, especially seeing as this will probably be our last Christmas in this house that I would decorate it. Now, I am a bit of a tight wad when it comes to decorating, I am one of those people who waits until the sales, I love Hobby Lobbys 90% off sale! and last year I scored a very large wreath that was originally $79.99 for only $7.99 and some stocking hangers for only $6.99, originally $69.99. However, I did not think to get some Christmas garland for the stairs, so I had to resort to doing it on the cheap. Off I went to Michaels, where the garlands were on sale at 60% off their original price but even then they would be about $15 a garland and I have 3 bannisters I needed to decorate. So looking around the shop I found the ideal basic garland and this is what I came up with:
3 X basic garlands $2.49 Michaels = $7.47

Daily special Poinsettia flowers @ $0.99 x 5 (3 colours, white, red and a plum colour)Michaels these are normally $2.99, and have about 5-6 flowers on them = $5
A bag of pinecones $2.49 Michaels, which I strung on wire
Bird Picks 2 for $1 Dollar Store I bought 3 of these =$3
Gold Baubles $1 from Dollar store I bought one tube that contains 15 balls and I already had a few left over from my ball wreath. I strung these together in sets of 3.
TOTAL SPENT $18.96, so each garland cost just over $6.00 to make.
I am feeling pleased with myself, can you tell?
Here are some photos of the finished garland, I can definitely see myself adding to this garland over the years, especially when I hit those sales, I already found a few berry picks and added them, but for now it will do.
Please excuse the photos, they were taken at night and for one reason or another I had a difficult time trying to get decent photos.
Father Christmas


The artsy girl connection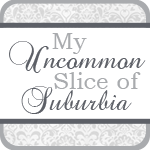 Monday
The DIY Show Off @ Ninth Street Notions
Craftomaniac Monday @ Craftomaniac
Made by You Mondays @ Skip to My Lou
Tutorials and Tips @ Home Stories A 2 Z
Craft and Tell @ Cherished Bliss